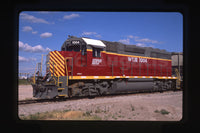 35mm slides from 2002-Present
I've been shooting 35mm slides since 1997 - both Kodachrome & Fujichrome. Current inventory is limited to subjects post-2001, and I have images of over 700 different locomotives available for sale.
More slides will be added as time allows - mainly locomotive rosters, but equipment, rolling stock & action photos will come in time.
Please check back regularly.